About Gibela
Gibela is a South African firm that is in charge of manufacturing fleets of trains in the metropolis and plays a direct a role in the development of the country's transportation. Founded in 2013, Gibela has been involved with multiple agreements that covers train maintenance, manufacturing of trains, and technical support of train spare parts. Over the course of their operations, Gibela has trained more than thousands of South African individuals who originate from disadvantaged backgrounds and show passion in becoming part of a black economic empowerment company. Having created more than 1 500 direct jobs in the country, Gibela is a powerhouse that isn't showing any signs of stopping.
About the Gibela Apprenticeships 2021-2024
Gibela is offering apprenticeships for South African young folks who wish to upgrade their technical and practical potential in multiple training fields. The Gibela Apprenticeships is offered for four (4) different fields, which are Welding, Electrical, Boilermaking, Fitting and Turning. Each apprenticeship is conducted for a 3-year period.
As an apprentice, you will be able to develop your existing competencies over a series of knowledge and skills. Directly working in the industry relevant to your field of choice, you will be responsible for fulfilling all of the quality systems and safety protocols that come in the workplace.
If you find the Gibela Apprenticeships to be a suitable opportunity for you, don't hesitate to register for the programme.
Eligibility Criteria
The Gibela Apprenticeships is a series of programmes that's made to improve your potential as an individual. In order to become a participant of the apprenticeship, candidates must fulfill the eligibility criteria that comes with it. These items will determine whether you'd make a good fit for the programme or not. Failure to abide to these criteria will put your application in a risky position.
The Gibela Apprenticeships Eligibility Criteria are as follows:
Possesses an N2 Engineering qualification

Or, has an NCV (Level 4) Engineering qualification

Prepared to join the entire 3-year duration of the programme
Has not joined any Gibela sponsored training programmes prior to this one
Officially recognized as a citizen of South Africa
Unemployed at the time of registration and programme
Residing in the following areas: Kwa Thema, Tsakane, Duduza and immediate surrounding areas.
Application Instructions
Apply online: Gibela Apprenticeships 2021-2024.
Applicants interested in the programme must access the online application portal mentioned above. Fill in the form with your correct details. All of the information provided must correlate to your current conditions.
All information will be utilised by the selection committee for registration purposes. Anyone found to be falsifying any aspects of their applications will be disqualified from the programme.
Closing Date
Application is available as long as it is not deleted on its official website.
Candidates interested in the programme are highly recommended to start preparing their application as soon as possible. Make sure you set aside time to review the contents of your registration before sending them in.
Gibela reserves the rights to make an appointment or not during the recruitment process. All decisions made by the selection committee are final.
Vacancy source: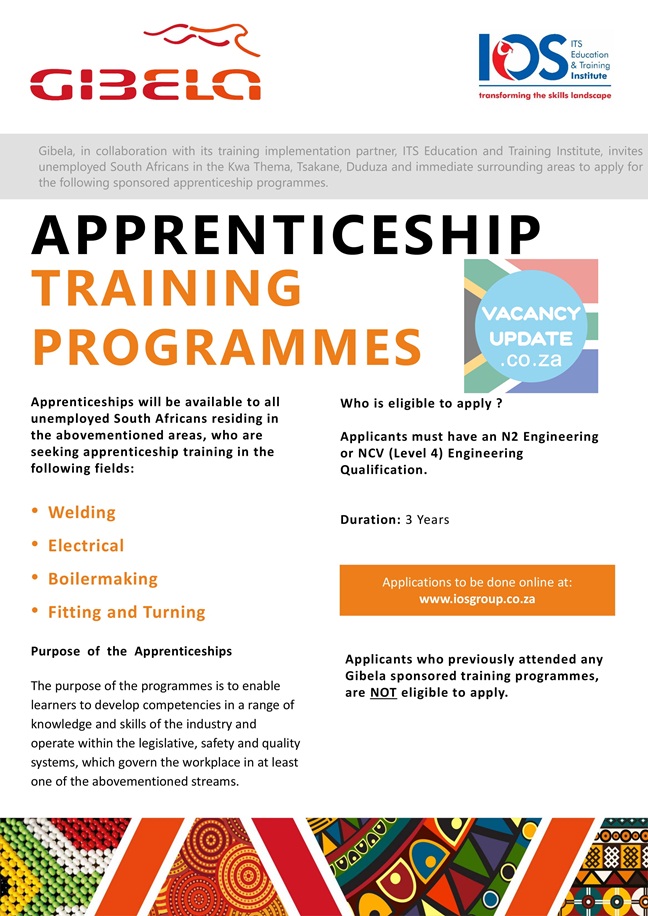 Reference: Gibela Rail Learnership Programmes