About Vodacom
Vodacom is a Telecommunications and Data Services company that's headquartered in Midrand, Gauteng. The establishment is under the ownership of Vodafone, considered to be the world's largest mobile communications entity that has successfully grown and adapted to the fast-changing dynamics of the industry. Vodacom has been championing integrated solutions that allows their users to stay connected through powerful technological resources. With innovation and continuity as their strengths, Vodacom has become an ultimate pioneer in the field.
About the Vodacom Learnership 2021: Youth Academy IT Technical Skills Programme
Vodacom is offering a learnership for bright-minded South African individuals who would like to be a part of the Youth Academy IT Technical Skills Programme. The Vodacom Learnership is a remarkable opportunity for young folks to acquire a solid working foundation in the ICT department.
Throughout the course of the learnership, participants will be subjected to a structured curriculum that combines both theoretical assessments and practical working sessions in a real-time company setting. Under the guidance of professional training providers, you will have your progress trackers and be given the necessary feedback to work on.
The Vodacom Learnership encourages participants to play an active role in developing future projects and all sorts of ICT-related programmes. Learners will learn how to properly provide assistance in IT equipment installation, trouble shooting, computer refurbishment, and connectivity.
Selected learners must agree to a 1-year fixed contract. Throughout the entire duration of the programme, learners will be entitled to a stipend to support your journey. If you find this to be a suitable opportunity, don't hesitate to register for the Vodacom Learnership.
Eligibility Criteria
Candidates interested in the Vodacom Learnership must fulfill an eligibility criteria before proceeding with their applications. Each of these items below will determine whether you have what it takes to proceed with this learnership. To guarantee a successful application, candidates are advised to meet all of the following requirements. Failure to do so will cause disadvantageous consequences towards the overall result of your applications. Be sure to jot down these items for personal reference.
The Vodacom Learnership Eligibility Criteria are as follows:
Possesses a Matric Certificate with English (1st or 2nd Language), Maths or Maths Literacy, Business Studies, and Physical Science
Currently living within the surrounding areas of Vodacom ICT Centre
Unemployed during the time of learnership
Between 18-34 years old
Has not received training sessions prior to this learnership
Has not received other forms of financial assistance during the year
Officially recognized as a citizen of South Africa (owns a legitimate South African Identity Document)
Originating from a disadvantaged background (focusing on individuals from Quintile 1-3 schools)
Note: candidates who are not willing to share the information above with the selection committee will be disqualified.
Application Instructions
Apply via email: [email protected] (Vodacom Learnership 2021)
Candidates are required to send in your most updated CV (Curriculum Vitae) to the email address provided above. Make sure your CV highlights your strengths, skills, and other available qualifications under your belt. This will help increase your chances of being accepted by the selection committee.
Alternatively, you can send in your applications to the allocated box provided at each centre. Kindly adhere to the addresses below:
Gauteng: Sunnyside (Pretona) – Cnr Walker And Gerad Moerdyk Streets, Mukleuneck, Pretoria; Orlando Pirates Centre (Orlando Stadium, Soweto)- Orlando Stadium
North West: (Ganyesa) – Post office Drive. Ganyesa Village
Mpumalanga: eMaIahIeni (Witbank) – Laundau Colleries, Kljptontein, Witbank;
Eastern Cape: Lady Frere (East London) – Department, x, 147 Faku Street, Lady Frere;
KwaZulu- Natal: Umbilo (Berea) – 78-80 Bartle Rd, Umbilo;
Western Cape: Worcester (Cape Town) — Somerset High School, Corner Villiersdorp Road and Durban Street. Worcester;
Limpopo: Vhembe (Makhado) – Nngweni Se, X, Stand 7, Makhado, Dzanani, Nzhelele Village
Free State: Thabanchu (Bloemfontetn) – 1646 Moutloatsi Str, Bultfontein I Thaba Nchu
Northern Cape: Siyanda (Upington) – Siyanda Djstnct Office budding, 2 JG Smith Street
By sending in your applications, you are hereby giving permission to the selection committee to have your personal information utilized for registration purposes.
Applications will be subjected to further evaluation and vetting procedures to verify the validity of candidates. Anyone discovered to be falsifying any aspects of their applications will be disqualified from the registration period.
Candidates must process their applications through the methods above. Submissions made through other methods, such as fax, will not be accepted by the selection committee.
Closing Date
Applications for the Vodacom Learnership must be submitted before the closing date on 21 March 2021.
The selection committee has absolute zero tolerance for late applications. Submissions made past the closing date will not be acknowledged during the registration period.
Candidates are advised to send in their applications as soon as possible. This will leave you with some time to properly evaluate the contents of your applications. Kindly prepare your applications at your earliest convenience.
Vodacom reserves the rights to make an appointment or not during the recruitment process. All decisions made by the selection committee are final.
Vacancy source: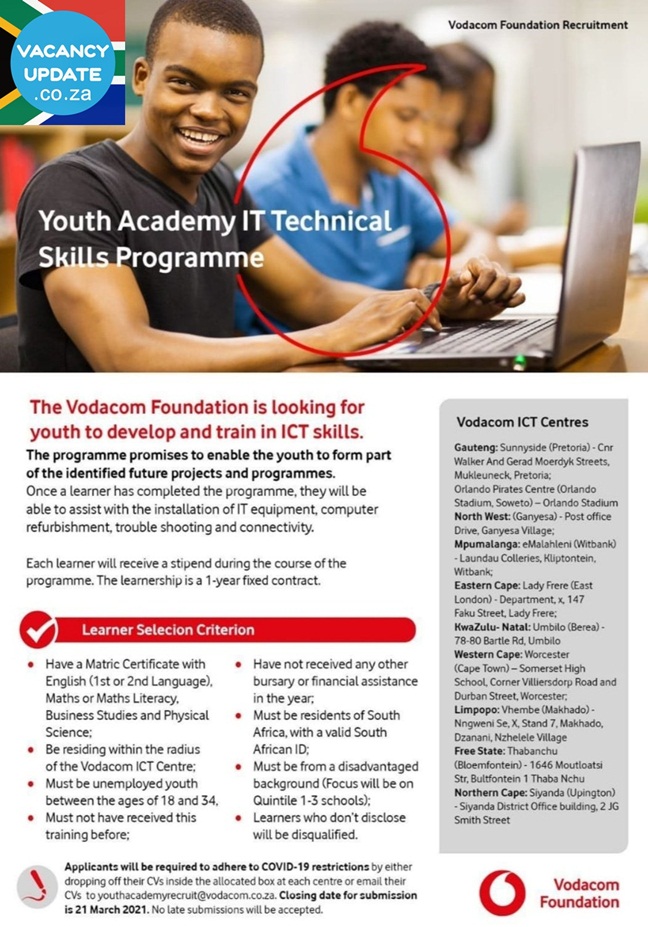 Reference: Vodacom Learnership Programmes