About Rio Tinto
Rio Tinto is a leading global company that operates their business in the Mining and Metals Industry. Originally based in London, United Kingdom, the public establishment has expanded themselves in several different countries in the world, including South Africa. Ever since their humble beginnings in the year 1873, Rio Tinto's line of work comprises of mining, exploring, and processing newly-founded metals and minerals, which will then be utilized for other purposes. Some of these acquired metals and minerals include aluminium (for vehicles), borates (minerals for agriculture), copper (for water pipers and wind turbines), and even luxurious diamonds (for jewelry).
At the moment, Rio Tinto conducts their business in a total of 36 nations. These countries are home to not just the company's operational offices, which handles all of the administration matters and research activities, but also selected mining refineries and smelters. In order for Rio Tinto to grow, the company is willing to take their exploration to the drastically different terrains of different geographical areas. As different countries have their own potential, a mass number of researchers and staff workers are required to carry out these activities. It comes as no surprise that Rio Tinto has been accommodating a massive total of more than 10,000 employees under their wing, both full-time and part-time workers.
Rio Tinto Learnership Programme 2021
Rio Tinto is currently offering the Mineral Processing Imbokodo Programme specifically for South African female individuals who are keen on the Mining Industry. The Imbokodo Programme, which was conceived in 2005, is an initiative that has been supporting and encouraging more and more women to participate in Richard Bay Minerals (RBM), one of Rio Tinto's localized mining operation that is based in South Africa. Having been in the country for 40 years and more, RBM is a flourishing mining operation based in Kwazulu-Natal that has been accredited as a Top Employer in the past years. With this learnership, you will receive a once in a life-time opportunity in the country's biggest producer and manufacturer of mineral sands.
The Rio Tinto Learnership will provide you with the necessary theoretical knowledge as well as practical working skills that will be helpful for you in the long run as a mining practitioner. On top of that, selected learners will have the privilege of receiving guidance from professionals who have a high level of expertise in the field. As one of the largest front runners of the mining industry, it is a guarantee that you will have your work ethic sharpened and your mind expanded with newly acquired information.
Eligibility Criteria
Interested candidates of the Rio Tinto Learnership Programme 2021 must first fulfill the eligibility criteria that comes with it. Each of these items below will determine whether you are qualified enough for the programme or not. Failure to meet all of these items below may reduce your chances of success with the applications. Therefore, please pay great attention to everything in this list.
The Rio Tinto Learnership Programme Requirements are:
Officially recognized as a citizen of South Africa
A female individual
Holds an educational Matric qualification with key subjects in Mathematics and Science
Owns a legitimate National Driver's License.
Additionally, candidates must also prepare these following documents:
A concise statement that explains why you would like to pursue this career
Your most updated Curriculum Vitae
Valid copies of your available certificates
Valid copies of your Identity Document
Valid copies of your Driver's License
Application Instructions
Apply online Rio Tinto Learnership Programme 2021.
Now that you have all of the eligibility criteria ticked off, you can now start on your Rio Tinto Learnership Programme 2021 applications. After you have accessed the application portal, please follow the instructions below:
Fill in all of the boxes on the application form
Upload your most updated Curriculum Form
Tick on "Yes, I provide concent."
Click "Save & Continue.
Closing Date
Applications for the Rio Tinto Learnership Programme 2021 are accepted by the selection committee before its closing date on 31 August 2020. Candidates are expected to send in their applications way before the deadline. Late applications sent past the deadline will not be tolerated by the committee and is automatically disregarded from the application procedure.
Important Notes
Candidates must provide their accurate information on the form as all information will be subject to further assessment and verification by the selection committee
Everyone is expected to complete the application form without missing any boxes – the committee will not be accepting any incomplete forms
Before you can proceed to send in your applications, all applicants are strictly required to tick on the "Yes, I provide consent." button – if you don't, you will not be able to continue with your applications
Be sure to keep extra copies of your documents for personal safekeeping just in case the copies you have submitted will not be returned back to you.
Rio Tinto Contact Details
Physical Address: 1 Harries Road, Illovo, Sandton 2146, Johannesburg, South Africa
Phone Number: +27 11 459 1260
Vacancy Source: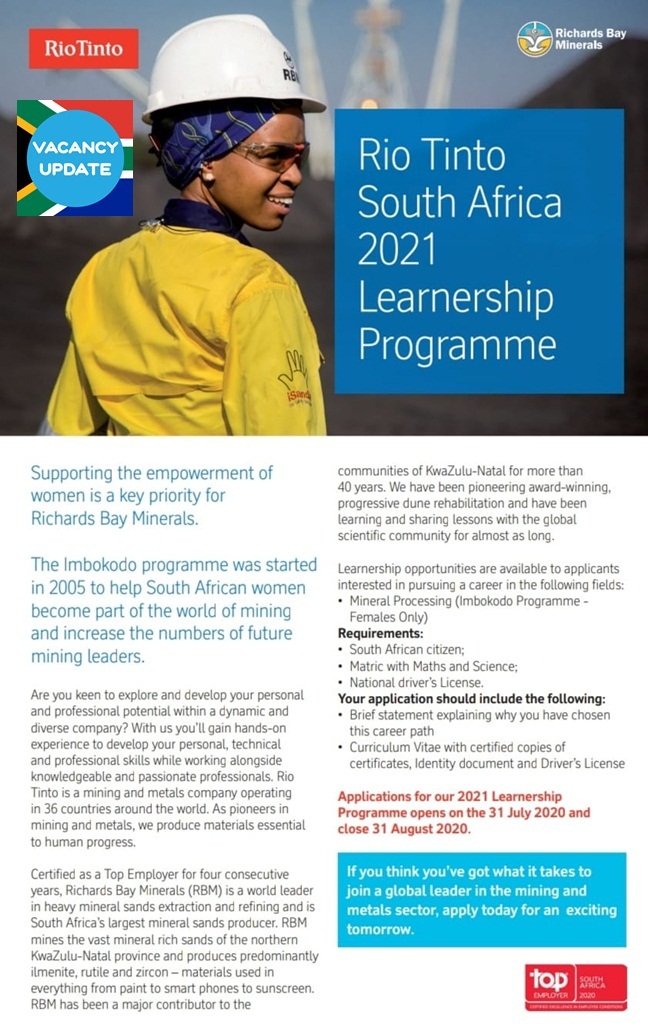 Reference: Rio Tinto Learnership Programmes