About Northam Booysendal Platinum
Northam Platinum is an independent mining company that is responsible for the quality production of PGMs in South Africa. Based within the Gauteng areas, the company is home to the Booysendal mining operation located in the South African Bushveld Complex. The Booysendal Platinum operation is home to a state-of-the-art trackless mechanised mining equipment and an abundance of resources within the area. Under the direct supervision of the company, the Booysendal Platinum operation optimises their facilities well thanks to their professional expertise.
About the Northam Booysendal Platinum Bursaries 2021
Northam Booysendal Platinum is offering financial aid in the form of bursaries to South African students who are self-motivated and show academic potential. The Northam Booysendal Platinum Bursaries is a wonderful opportunity to receive the assistance you need to support your educational journey. The establishment believes that by providing abundant encouragement for bright-minded students, they will grow up to become positive contributors to local communities in South Africa.
The Northam Booysendal Platinum Bursaries is available for the following fields:
X4 Mining Engineering
X4 Electrical and Mechanical Engineering
X1 Rock Engineering
X1 Mining Survey
X1 Metallurgical Engineering
X1 Geology
X1 Human Resources
Accepted awardees of the bursary programme will be required to take full-time employment sessions in the Booysendal area. The obligatory work programme is necessary for each year the awardee is given the bursary.
For application purposes, please take note of the Northam Booysendal Platinum Bursaries's Reference Number: BDHR12/21
If you find this to be a suitable opportunity for you, don't hesitate to register for the Northam Booysendal Platinum Bursaries.
Eligibility Criteria
Candidates interested in the Northam Booysendal Platinum Bursaries must fulfill an eligibility criteria before proceeding with their applications. Each of these items below will determine whether you have what it takes to proceed with this bursary. To guarantee a successful application, candidates are advised to meet all of the following requirements. Failure to do so will cause disadvantageous consequences towards the overall result of your applications. Be sure to jot down these items for personal reference.
The Northam Booysendal Platinum Bursaries Eligibility Criteria are as follows:
Possesses a Grade 12 qualification with Mathematics and Science
Shows proof of registration into a relevant institution
Candidates who are in their 2nd year must pass all of your 1st year subjects
Has certified copies of all your relevant qualifications and results
Preference will be offered to candidates originating from local communities.
Application Instructions
Apply via email: [email protected] (Northam Booysendal Platinum Bursaries 2021).
Candidates are required to provide the following documents:
Your most updated Curriculum Vitae (must have a Community stamp)
A certified copy of your Identity Document
Certified copies of all your relevant qualifications.
All of these documents must be included in your application dossier. Incomplete applications will not be considered by the selection committee.
Send in your applications to the email addresses provided above. Don't forget to quote the Position Title and Reference Number in the subject of your email.
By sending in your applications, you are hereby giving permission to the selection committee to have your personal information utilized for registration purposes.
Applications will be subjected to further evaluation and vetting procedures to verify the validity of candidates. Anyone discovered to be falsifying any aspects of their applications will be disqualified from the registration period.
Candidates must process their applications through the email address provided above. Submissions made through other methods will not be accepted by the selection committee.
Note: the selection process will adhere to the equal employment opportunity employer policies.
Closing Date
Applications for the Northam Booysendal Platinum Bursaries must be submitted before the closing date on 14 May 2021.
The selection committee has absolute zero tolerance for late applications. Submissions made past the closing date will not be acknowledged during the registration period.
Announcements will only be made to shortlisted candidates. Should you not hear back from the selection committee within three (3) weeks past the closing date, we regret to inform you that you have not been selected for the programme.
Candidates are advised to send in their applications as soon as possible. This will leave you with some time to properly evaluate the contents of your applications. Kindly prepare your applications at your earliest convenience.
Northam Booysendal Platinum reserves the rights to make an appointment or not during the recruitment process. All decisions made by the selection committee are final.
Vacancy source: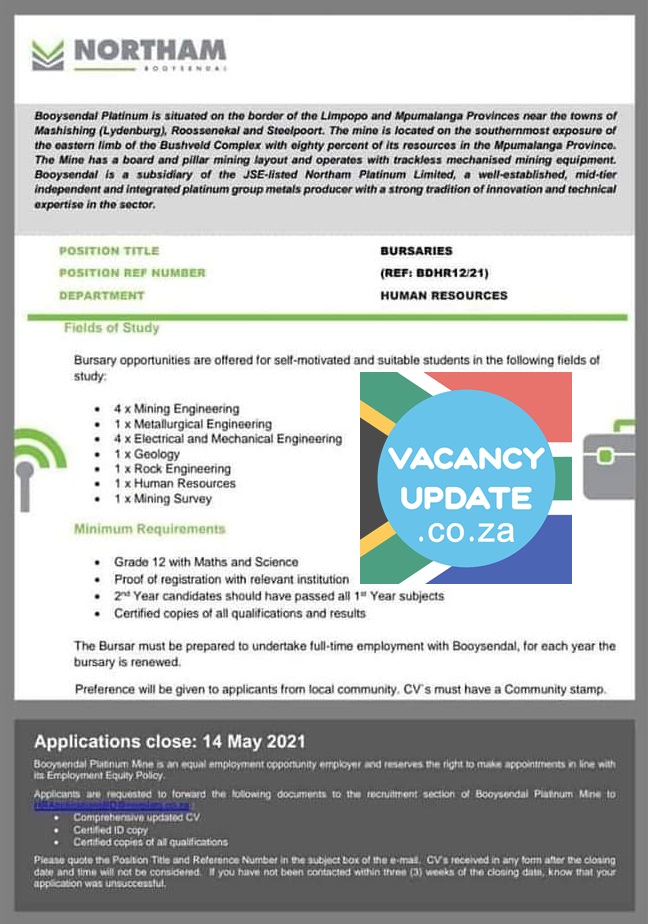 Reference: Northam Platinum Bursary Programmes