About BankSETA
BankSETA, also known as the Banking Sector Education and Training Authority, is an establishment that focuses on the transformation of their communities by providing skills development programmes that covers the banking and alternative banking sector. By establishing partnerships with the relevant stakeholders, BankSETA is mainly responsibly for leveraging the skills levy funds to support their finance sectors. By conducting high-quality skills training services, BankSETA is a key player in the advancement of their society.
About the BankSETA Kuyasa Generic Management Learnership 2022-2023
BankSETA is offering a learnership programme for South African individuals who are interested in learning about the banking and alternative banking field. The BankSETA Kuyasa Generic Management Learnership is a remarkable learnership that equips you with the foundation of this sector. Throughout the programme, you will be subjected to a structured curriculum that combines both theoretical assessments and practical working sessions held in a real-time company setting. Under the guidance of professional training providers, you will be encouraged to show immense progress as you work your way to a qualification.
The BankSETA Kuyasa Generic Management Learnership is conducted for a total period of 1 year. Upon successful completion of the programme, you will be entitled to an NQF Level 5 qualification that is relevant to the Banking sector – provided that you show impressive results from the learnership. Participants are required to attend all of the form academic training sessions that are conducted. To support learners' journey, participants will be given a monthly stipend of R4 500. Please be kindly informed that the recruitment process does not required candidates to pay a registration fee.
Note: applicants with disabilities are highly encouraged to give this opportunity a shot.
If you find this to be a suitable opportunity for you, don't hesitate to register for the BankSETA Kuyasa Generic Management Learnership.
Eligibility Criteria
Candidates interested in the BankSETA Kuyasa Generic Management Learnership must fulfill an eligibility criteria before proceeding with their applications. Each of these items below will determine whether you have what it takes to proceed with this learnership. To guarantee a successful application, candidates are advised to meet all of the following requirements. Failure to do so will cause disadvantageous consequences towards the overall result of your applications. Be sure to jot down these items for personal reference.
The BankSETA Kuyasa Generic Management Learnership Eligibility Criteria are as follows:
1. Educational Qualifications
Must have finished a 3-year Tertiary Qualification in either one of these subjects:

Risk Management
Information Technology
Information System
Informatics
Financial Accounting
Financial Management
Human Resources
Statistics
Economics
Commerce or Law
Marketing and Communications
Actuary for the Kuyasa Generic Management.
2. Basic Requirements
Officially recognized as a citizen of South Africa (must provide a valid South African Identity Document)
Below 35 years old as of 1 July 2022
Unemployed during the time of learnership
Not involved in another learnership
Not pursuing their studies from 1 July 2022 to 30 June 2023
Applicants with disabilities must provide a valid Medical Certificate to confirm the nature of your disabilities
Displays impressive communication abilities
Clear from any criminal or credit track records.
Application Instructions
Apply online: BankSETA Kuyasa Generic Management Learnership 2022-2023.
Alternatively, you can choose to apply by sending in your most updated CV through either one of the methods below:
You can also apply online by sending the word BANKSETA to +27 87 250 2950 via WhatsApp.
By sending in your applications, you are hereby giving permission to the selection committee to have your personal information utilized for registration purposes.
Applications will be subjected to further evaluation and vetting procedures to verify the validity of candidates. Anyone discovered to be falsifying any aspects of their applications will be disqualified from the registration period.
Candidates must process their applications through the methods provided above. Submissions made through other methods will not be accepted by the selection committee.
Note: the recruitment process will be prioritizing employment equity targets.
Closing Date
Applications for the BankSETA Kuyasa Generic Management Learnership must be submitted before the closing date on 30 March 2022.
The selection committee has absolute zero tolerance for late applications. Submissions made past the closing date will not be acknowledged during the registration period.
Announcements will only be made to shortlisted candidates by the very latest 30 May 2022. Should you not hear back from the selection committee by then, we regret to inform you that you have not been selected for the learnership.
Candidates are advised to send in their applications as soon as possible. This will leave you with some time to properly evaluate the contents of your applications. Kindly prepare your applications at your earliest convenience.
BankSETA reserves the rights to make an appointment or not during the recruitment process. All decisions made by the selection committee are final.
Committee Details
Do you have a question regarding the BankSETA Kuyasa Generic Management Learnership? Don't hesitate to ask! Feel free to send in your enquiries and concerns to the contact person below:
Telephone Number: +27 10 140 9510
Vacancy source: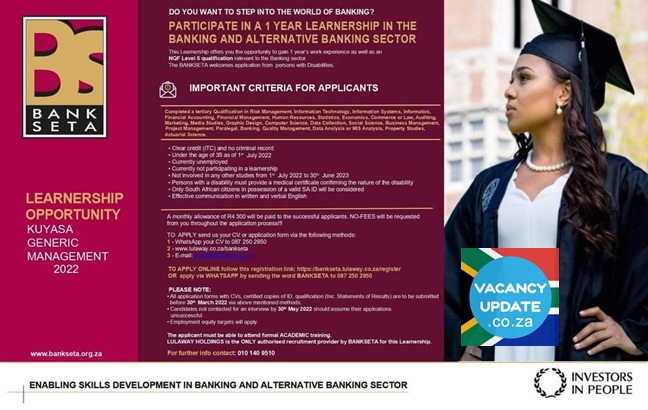 Reference: BANKSETA Learnership Programmes